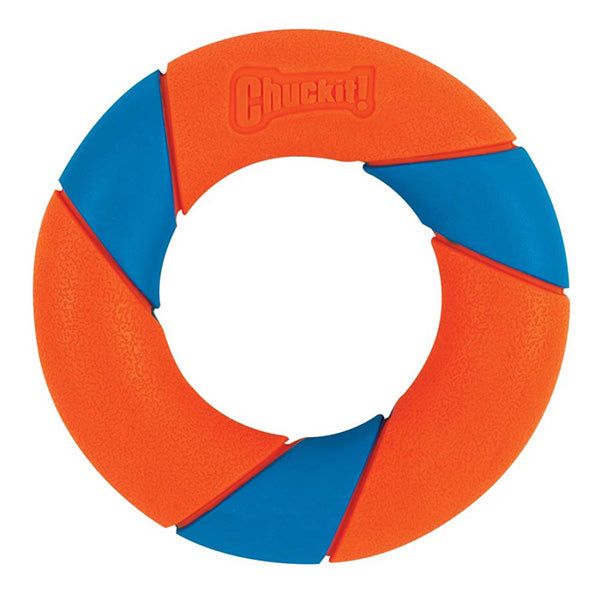 Chuckit! UltraRing: Elevate Fetch Time to New Heights

Unleash boundless fun and adventure with the Chuckit! UltraRing, the pinnacle of chase and fetch toys. Engineered with an innovative topspin infusion, the UltraRing delivers an electrifying experience as it dances, darts, and bounces unpredictably, mirroring the captivating movements of real game. Your furry friend's primal chase instincts will ignite, turning every play session into an exhilarating adventure.

Designed for maximum visibility, the Chuckit! UltraRing boasts vibrant hues that ensure effortless spotting even amidst snowy landscapes or dazzling sunshine. Elevate your fetch games to legendary status, as this remarkable toy transforms any environment into a thrilling playground for your beloved canine companion.

Take the excitement up a notch by pairing the Chuckit! UltraRing with the Chuckit! RingChaser, amplifying the joy of fetching and creating memories that last a lifetime. Embrace the thrill of interactive play and forge an unbreakable bond with your pet through moments of shared joy and laughter.

Product Features:
- Unleash the Ultimate Chase: Experience the thrill of topspin-infused action that sets the Chuckit! UltraRing apart, captivating your dog's chase instincts and keeping them engaged.
- Vibrant Visibility: The eye-catching colors make the UltraRing easy to spot in various conditions, from snow-covered landscapes to sunny outdoor escapades.
- Play Beyond Boundaries: Compatible with the Chuckit! RingChaser, the UltraRing invites endless hours of fetch fun, forging unforgettable connections with your furry friend.
- Nationwide Delivery or Local Pick-up: Order online for local pick-up at select Zamzows pet supply centers in Boise, Meridian, and Nampa, or enjoy nationwide delivery to bring the Chuckit! UltraRing excitement to doorsteps across the country.

Please note: The Chuckit! UltraRing is designed for supervised play, ensuring safety and enjoyment for both you and your pet. Elevate your fetch games today and create memories that will be cherished for years to come. Get ready to make fetch happen in the most thrilling way imaginable with the Chuckit! UltraRing.

Order Now for Unforgettable Fetch Adventures!