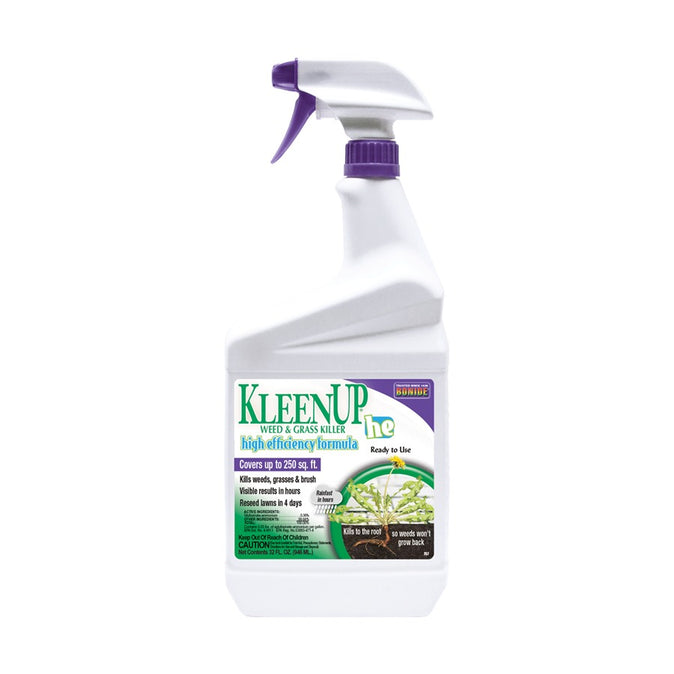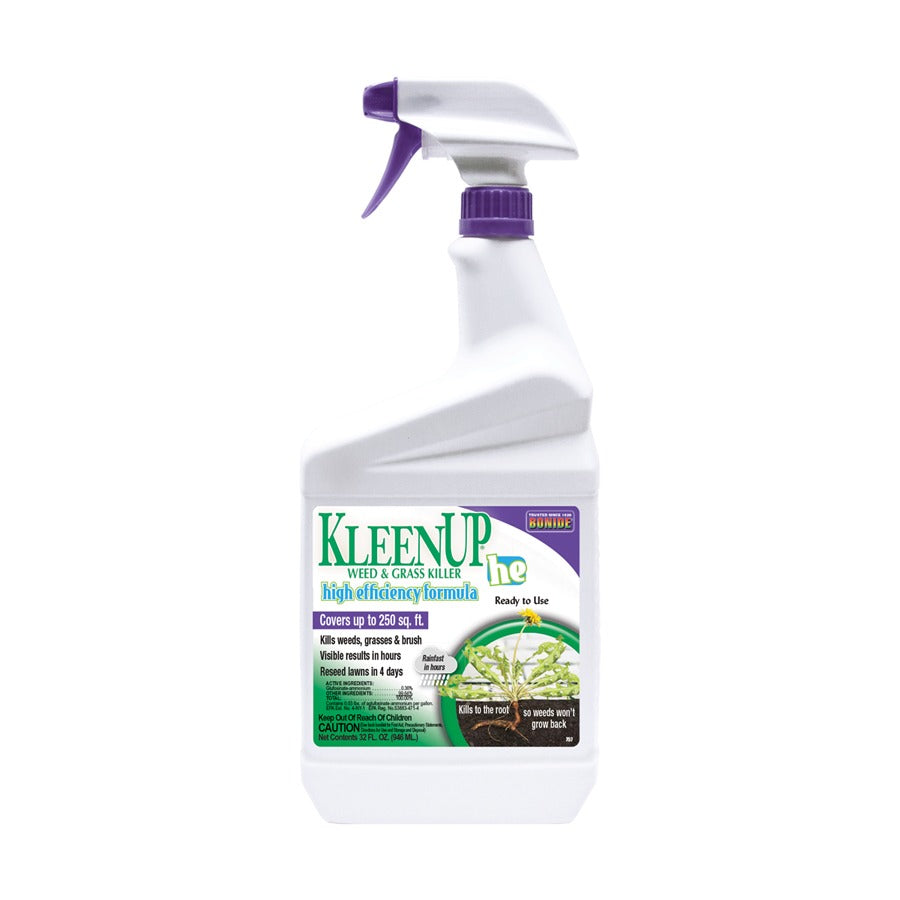 Bonide Kleenup He Ready to Use 32 OZ
Introducing Bonide Kleenup He Ready to Use 32 OZ: Your Ultimate Weed and Grass Eliminator
Download Product Label

Are persistent weeds and overgrown grasses taking over your beautiful lawn and garden? Say goodbye to these unwelcome guests with Bonide Kleenup He Ready to Use 32 OZ, the powerful solution designed to eradicate weeds, grasses, and brush quickly and effectively. 

Key Features:
1. Rapid and Reliable Results: Experience the power of Kleenup's high-efficiency formula, specially crafted to deliver swift results. In just a few hours, you'll witness the transformation as it effectively kills weeds, grasses, and brush right down to the roots, ensuring they don't resurface.
2. Economical and Efficient: With Bonide Kleenup He Ready to Use, a little goes a long way. A single gallon of the finished spray covers an impressive 1,000 square feet, saving you time, effort, and money. The perfect choice for large areas and small, allowing you to treat up to 5,250 sq. ft. with just one quart.
3. Versatile Application: This powerful formula can be used around trees, gardens, sidewalks, driveways, and more, making it a versatile solution to combat weeds and grasses wherever they lurk.
4. Easy-to-Use Ready to Use Formula: No mixing required! Simply grab the Bonide Kleenup He Ready to Use 32 OZ and start spraying. Its user-friendly design ensures hassle-free application for immediate results.
5. Visible Results, Guaranteed: Witness the transformation as weeds and grasses wither away before your eyes. You'll see visible results in a matter of hours, leaving your lawn and garden looking immaculate and weed-free.
6. Enhanced Lawn Care: Rejuvenate your lawn by reseeding just four days after application, giving your green spaces the care they deserve.

Where to Buy:
Bonide Kleenup He Ready to Use 32 OZ is available for purchase online for your convenience. Alternatively, you can find it at any of our local Zamzows garden centers in Boise, Meridian, and Nampa, ensuring you have easy access to this potent weed eliminator.

Take control of your lawn and garden today with Bonide Kleenup He Ready to Use 32 OZ. Say goodbye to weeds and grasses and hello to a beautifully manicured landscape. Order now or visit our Zamzows garden centers to experience the power of Kleenup firsthand!