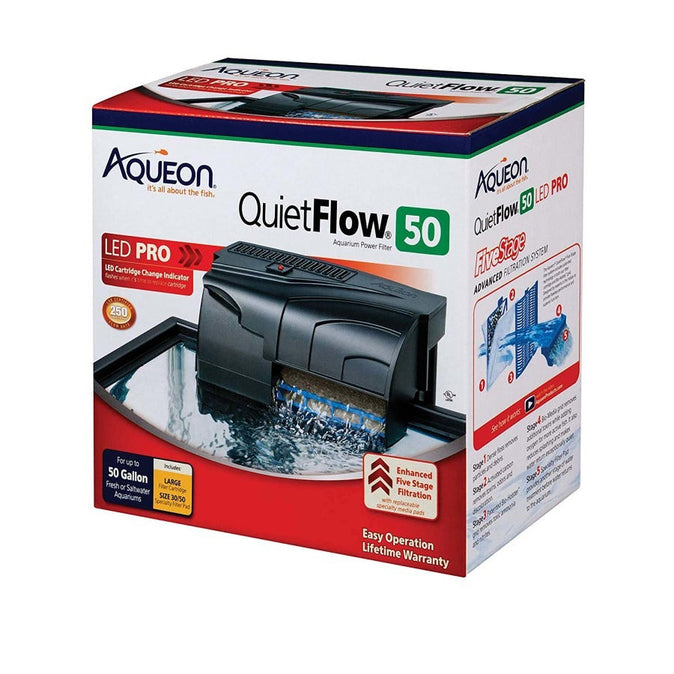 Aqueon Quiet Flow Power Filter 50 GAL
Aqueon Quiet Flow Power Filter 50 GAL: Enhance Your Aquarium's Health and Beauty

Looking for a reliable and efficient power filter for your aquarium? Look no further than the Aqueon Quiet Flow Power Filter 50 GAL. Designed to provide exceptional filtration performance, this power filter ensures a clean and healthy aquatic environment for your fish and plants.

Unmatched Filtration Capabilities:
Our power filter is equipped with a cutting-edge LED indicator light that flashes when the water flow is obstructed by the cartridge. This serves as a timely reminder to replace the cartridge, maintaining optimum filtration efficiency. With mechanical, chemical, biological, and optional specialty pad filtration, this power filter leaves no room for compromise.

Convenience and Dependability:
Featuring a self-priming filter pump, our power filter guarantees hassle-free operation. It automatically starts or restarts in the event of a power interruption, ensuring consistent and reliable filtration. The internal pump design not only reduces noise but also eliminates leaks, allowing for a peaceful and worry-free aquarium experience.

Promote a Healthy Environment:
Our power filter offers high flow rates, optimizing the dissolved oxygen content in your aquarium. This promotes the health and activity of your fish, enhancing their overall well-being. Say goodbye to stagnant water and hello to a vibrant aquatic ecosystem.

Preserving Beneficial Bacteria:
When replacing the cartridge, it is important not to clean the Bioholster. This specialized section contains beneficial biological bacteria crucial for maintaining a balanced ecosystem. By preserving these bacteria, our power filter supports a healthy and thriving aquarium.

Versatile and Easy to Use:
The Aqueon Quiet Flow Power Filter 50 GAL is suitable for both fresh and saltwater aquariums up to 50 gallons in size. It is compatible with our One Large Aqueon Replacement Cartridge and Size 30/50 Specialty Filter Pads. With clear and straightforward instructions, setting up and maintaining your aquarium has never been easier.

Order Online or Visit Our Zamzows Pet Supply Stores:
Experience the Aqueon Quiet Flow Power Filter 50 GAL by ordering online or visiting any of our local Zamzows pet supply stores conveniently located in Boise, Meridian, and Nampa. We are committed to providing top-quality products and exceptional customer service to aquarium enthusiasts like you.

Upgrade your aquarium filtration system with the Aqueon Quiet Flow Power Filter 50 GAL and witness the transformation of your aquatic paradise. Order now and give your fish the environment they deserve.