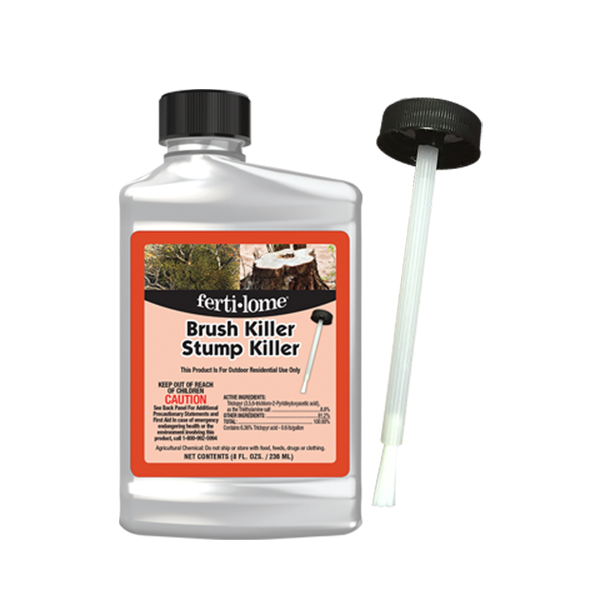 Fertilome Brush Killer Stump Killer Ready to Use 8 OZ
Brush Killer Stump Killer Ready to Use 8 OZ with Triclopyr 8.8% by Fertilome: the ultimate solution for controlling unwanted woody plants, vines, and broadleaf weeds in your landscape. Whether you're dealing with encroaching vegetation around your home, cabin, fences, walkways, or other non-crop areas, this powerful formula will help you regain control over your outdoor spaces.
This versatile product is designed to provide effective and efficient results. The Brush Killer Stump Killer offers a convenient and user-friendly application process. Simply mix 8 oz of the solution with ½ to 1 gallon of water and spray it directly onto the leaves of the targeted plants. Its quick action ensures that the unwanted vegetation will be effectively eliminated.
For stumps that require immediate attention, you can apply the solution undiluted within 45 minutes of cutting them. This ensures maximum penetration and thorough elimination of the stump, preventing regrowth and allowing you to reclaim your landscape with ease.
Fertilome's Brush Killer Stump Killer with Triclopyr 8.8% stands out from competing brands like Bayer, Bonide, and Round-up for its potent formula, efficient action, and ease of use. This powerful solution is specially formulated to tackle even the most stubborn unwanted plants, providing a reliable solution for controlling weeds and managing the landscape around your home.
With 13 convenient locations including Boise, Nampa, and Meridian, you can find Fertilome's Brush Killer Stump Killer at a retailer near you. Our product is trusted by homeowners and professionals alike for its quality and effectiveness. The knowledgeable staff at your local store will be happy to assist you and provide guidance on the best products for your specific landscaping needs.
Take control of your outdoor spaces today with the Brush Killer Stump Killer Ready to Use 8 OZ by Fertilome. Its superior performance and wide availability make it the trusted choice for effective weed control and landscape management. Remember to always read and follow the label directions for optimal and safe application.
Download Product Label