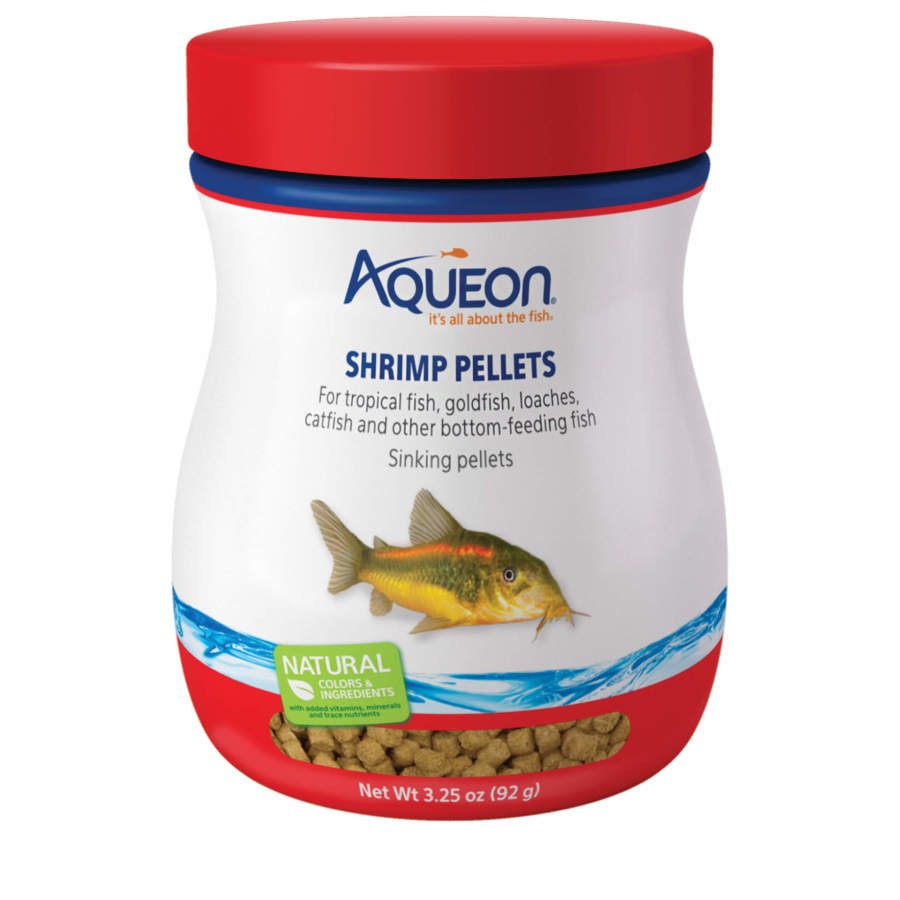 Aqueon Bottom Feeder Shrimp Pellets 3.25 OZ
Aqueon Bottom Feeder Shrimp Pellets 3.25 OZ - Nutritious Delight for Bottom Dwelling Fish

Looking for the perfect food to satisfy your bottom dwelling fish? Look no further than Aqueon Bottom Feeder Shrimp Pellets. Our premium pellets are specially formulated to meet the unique dietary needs of bottom dwellers like plecostomus, loaches, catfish, and more. With an enhanced formula and enticing ingredients, these pellets are designed to keep your fish healthy, vibrant, and satisfied.

Why Choose Aqueon Bottom Feeder Shrimp Pellets?

1. Irresistible Attraction: Our pellets are made with a carefully selected blend of natural ingredients that bottom dwelling fish are naturally drawn to. The delectable shrimp meal, fish meal, and fish oil provide a mouthwatering taste that will have your fish eagerly swimming to their feeding area.

2. Optimal Nutrition: We understand the importance of a balanced diet for your fish. That's why our shrimp pellets are formulated to maximize nutrient absorption while minimizing waste. By utilizing more of what they eat, your fish will experience improved digestion and overall health.

3. Vibrant Colors and Immune Support: Aqueon Bottom Feeder Shrimp Pellets are enriched with essential vitamins, minerals, and trace nutrients. This specialized blend supports a healthy immune system, enhances the natural colors of your fish, and promotes proper growth and vitality.

4. Crystal Clear Water: Say goodbye to cloudy water caused by feeding. Our pellets are carefully crafted to sink slowly and dissolve without clouding the water when used as directed. Enjoy a pristine aquarium environment without compromising on your fish's nutrition.

5. Recommended for Various Species: Aqueon Bottom Feeder Shrimp Pellets are ideal for a variety of bottom dwelling fish. Perfectly suited for Cory Catfish, Catfish, Loaches, and South American Cichlids, these pellets cater to the specific needs of these species, ensuring they receive the best care possible.

Order Online or Visit Our Stores:

Ready to give your fish the ultimate dining experience? Aqueon Bottom Feeder Shrimp Pellets can be conveniently ordered online or purchased at any of our local Zamzows pet supply stores in Boise, Meridian, and Nampa. We're dedicated to providing top-notch products for your aquatic companions.

Product Details:
- Pellet diameter: Approximately 9mm
- Ingredients: Shrimp Meal, Wheat Flour, Fish Meal, Fish Oil, Dehydrated Kelp, Chlorella, L-Ascorbyl-2-Polyphosphate (source of Vitamin C), Choline Chloride, dl-a-Tocopheryl Acetate, Dicalcium Phosphate, Calcium Propionate (Preservative), Manganese Proteinate, Zinc Proteinate, Copper Proteinate, Calcium Iodate, Iron Proteinate, Cobalt Proteinate, Calcium Carbonate, Sodium Selenite, Vitamin A Acetate, Vitamin D3 Supplement, Vitamin B12 Supplement, Riboflavin-5-Phosphate, Niacin, d-Calcium Pantothenate, Menadione Sodium Bisulfite Complex (source of Vitamin K Activity), Folic Acid, Thiamine Mononitrate, Pyridoxine Hydrochloride, Biotin.

Enhance your bottom dwelling fish's well-being with Aqueon Bottom Feeder Shrimp Pellets. Order now and treat your fish to a nutritious feast they'll love!