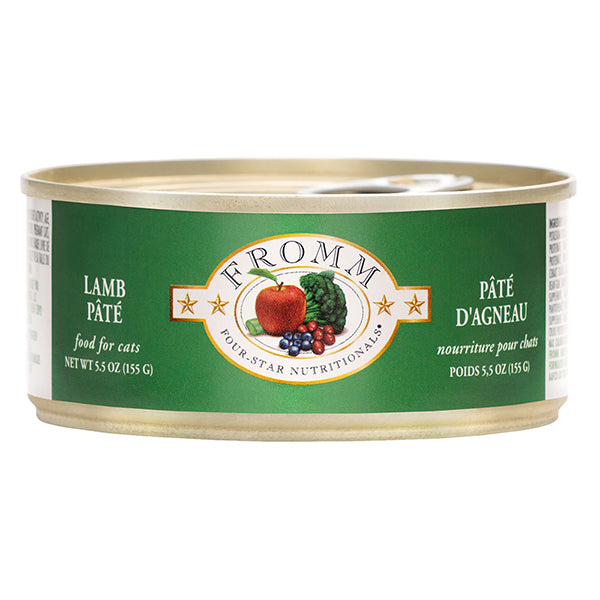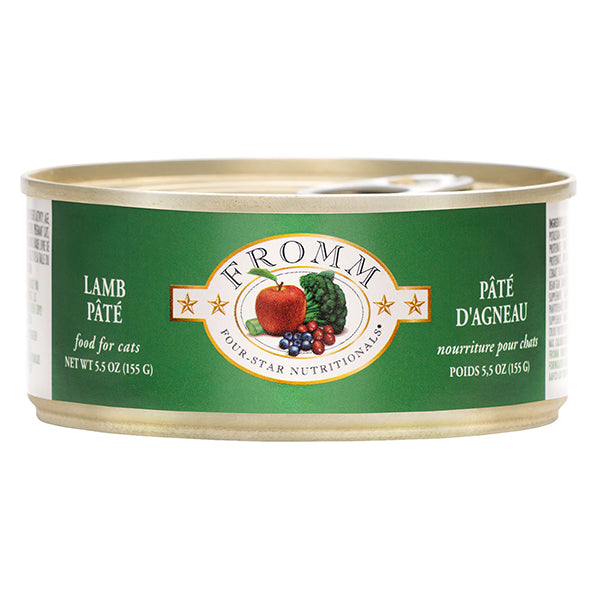 Fromm Cat Food Can Lamb Pate 5.5 OZ
Fromm Cat Food Can Lamb Pate 5.5 OZ, a delectable culinary creation crafted by Fromm Family Foods, a fifth-generation family-owned-and-operated artisan pet food company. This finely minced lamb, simmered in a savory broth, promises a gourmet dining experience for your feline friend. Sourced and produced at Fromm's hands-on family-owned-and-operated facility, this cat food exemplifies their commitment to quality and nutrition.

Packed with high nutrient digestibility and utilization, this lamb pate is a testament to Fromm's dedication to your pet's well-being. Every production batch undergoes rigorous third-party pathogenic bacteria testing, ensuring the utmost safety and quality. Fromm's proprietary blend of probiotics supports digestive health, promoting a happy and thriving cat.

The ingredient list showcases a premium combination, including lamb, lamb liver, pearled barley, and more, providing a balanced and wholesome meal for your beloved pet. The guaranteed crude protein of 9.00%, crude fat of 6.00%, and maximum moisture content of 78% make this lamb pate an ideal choice for cats with refined tastes and dietary needs.

Available now at your local Zamzows location, a trusted pet store in Boise and Nampa, Idaho. Conveniently accessible for local pick-up or nationwide delivery, Zamzows ensures that your furry companion can indulge in the finest cat supplies with ease. Elevate your cat's dining experience with Fromm Cat Food Can Lamb Pate, a delectable choice available at Zamzows, where quality and care meet for your pet's delight.