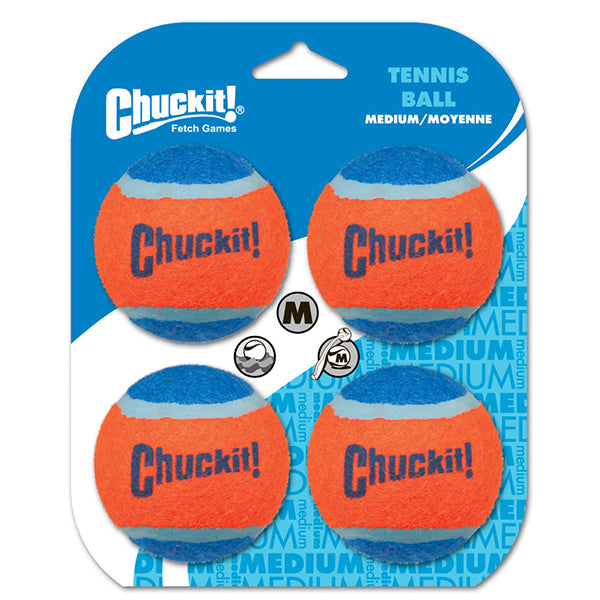 Chuckit Tennis Ball 4 PK MED
Chuckit Tennis Ball 4-Pack (Medium) - Elevate Your Fetch Game!

Upgrade your fetch sessions with the Chuckit! Tennis Ball 4-Pack (Medium), designed to bring endless joy to you and your furry companion. Crafted from premium materials, these tennis balls are expertly engineered to enhance the thrill of fetch while ensuring durability and entertainment.

Key Features:
- High-Quality Construction: Engineered with a superior natural rubber core and extra-thick rubber exterior, Chuckit! Tennis Balls are built to withstand enthusiastic play, ensuring long-lasting fun.
- Floats in Water: Take playtime to the next level! These tennis balls are buoyant in water, making them perfect for interactive aquatic adventures with your beloved pet.
- Enhanced Visibility: Vibrant and eye-catching, the bright colors of Chuckit! Tennis Balls make them easy to spot during play, reducing the risk of losing the ball in the midst of excitement.
- Perfect Compatibility: Designed to work seamlessly with the Chuckit! Launcher (available separately), these tennis balls can be launched effortlessly, adding an extra element of exhilaration to your fetch games.
- Multiple Pack Options: The Chuckit Tennis Ball 4-Pack (Medium) offers great value and convenience, ensuring you have a ready supply of fun for countless play sessions.

Whether you're enjoying a leisurely backyard game or embarking on a thrilling outdoor adventure, Chuckit! Tennis Balls are your trusted companion for interactive playtime.

Ordering is Easy:
- Local Pick-Up: Available exclusively at select Zamzows pet supply centers in Boise, Meridian, and Nampa. Order online and enjoy the convenience of local pick-up, getting your furry friend's favorite toys in no time.
- Nationwide Delivery: Can't make it to our physical stores? No worries! Chuckit Tennis Ball 4-Pack (Medium) can be conveniently delivered nationwide, bringing the excitement of fetch to dogs all around the country.

Elevate your fetch game with the Chuckit Tennis Ball 4-Pack (Medium) and create unforgettable moments of joy with your four-legged friend. Order now for local pick-up or nationwide delivery and let the fun begin!