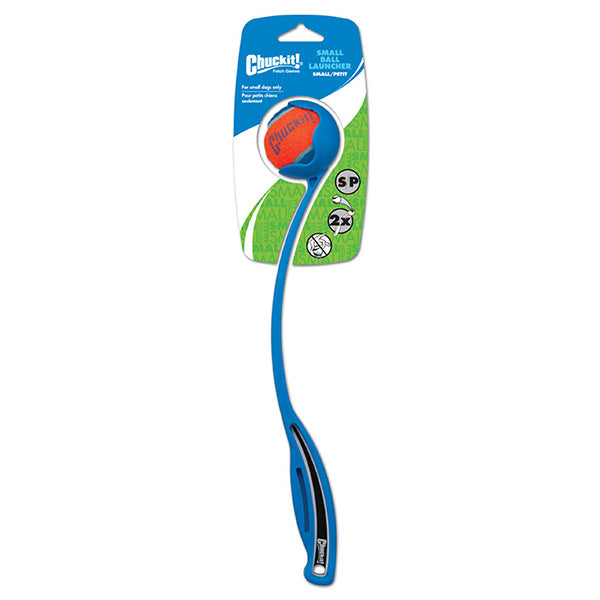 Chuckit Sport Launcher SM 14 IN
Upgrade Your Fetch Game with the Chuckit Sport Launcher SM 14 IN

Unleash the ultimate playtime experience for your furry companion with the Chuckit Sport Launcher SM 14 IN! Elevate your dog's exercise routine to new heights while sparing yourself the exhaustion. Discover the power to propel balls 2 to 3 times farther, turning every throw into an exhilarating chase.

Say goodbye to slobbery, saliva-covered balls – the Chuckit Sport Launcher offers a hands-free pickup solution, keeping your hands clean and your playtime efficient. Crafted with an ergonomic rubber handle, this launcher ensures unparalleled comfort and precise control, allowing you to confidently unleash each throw.

Constructed from durable, lightweight, and flexible plastic, the Chuckit Sport Launcher is built to withstand the most enthusiastic play sessions. Choose from an array of throwing ranges and ball sizes, catering to your dog's unique preferences and abilities. This versatile launcher is compatible with both standard tennis balls and Chuckit! Compatible balls, providing endless entertainment options.

As a bonus, each Chuckit Sport Launcher includes a standard Chuckit! Tennis Ball, giving you everything you need to get started on your fetching adventures. Available in an assortment of vibrant colors, this made-in-the-USA innovation brings both style and functionality to your playtime routine.

Ordering the Chuckit Sport Launcher SM 14 IN is a breeze – enjoy the convenience of online shopping and opt for local pick-up at select Zamzows pet supply centers in Boise, Meridian, and Nampa. For those outside the local area, worry not – nationwide delivery is at your fingertips, bringing this game-changing toy straight to your doorstep.

Elevate your dog's playtime, unleash the potential of each throw, and make fetch more exciting than ever before with the Chuckit Sport Launcher SM 14 IN. Your furry friend deserves nothing but the best, and this launcher is here to deliver endless moments of joy and bonding.