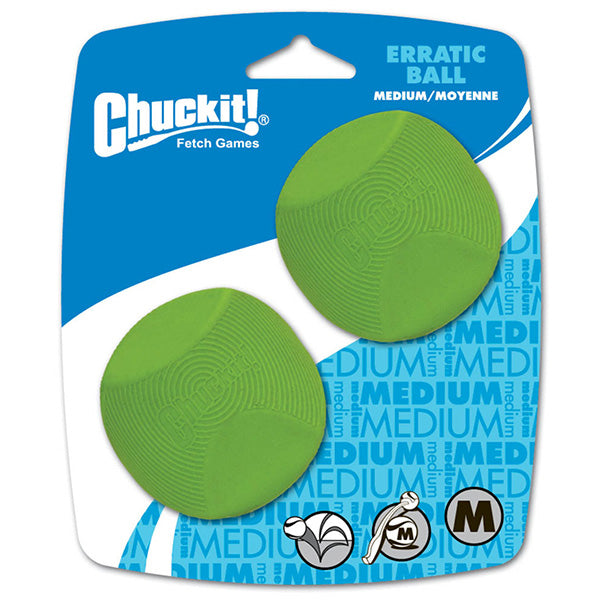 Chuckit Erratic Ball 2 PK MED
Chuckit Erratic Ball 2 PK MED - The Ultimate Playtime Companion for Your Pup!

Looking to elevate playtime with your furry friend? Look no further than the Chuckit Erratic Ball 2 PK MED! Crafted with precision and designed for boundless fun, this innovative rubber ball takes fetch to a whole new level.

Unpredictable Bounces: Say goodbye to ordinary fetch sessions! Our Chuckit Erratic Ball boasts a unique geometric shape that keeps your pup on their toes. With its squared corners, this ball bounces erratically, ensuring an exciting and challenging experience every time it's tossed.

Built to Last: Durability meets playfulness in the Chuckit Erratic Ball. Crafted from high-quality rubber, it's engineered to withstand even the most enthusiastic play. Rest easy knowing this ball can handle your pup's boundless energy and roughhousing.

Easy to Clean: No more fuss over dirty toys! The Chuckit Erratic Ball is a breeze to clean, ensuring hassle-free maintenance. Spend more time bonding with your furry friend and less time worrying about tidying up.

Perfectly Sized: Designed to fit seamlessly with your Chuckit Launcher, the Chuckit Erratic Ball 2 PK MED is just the right size for endless fetch and retrieval adventures. Get ready for effortless throwing and maximum fetch distance!

Available Nationwide: Whether you're in the heart of Boise, Meridian, or Nampa, or anywhere across the nation, you can enjoy the Chuckit Erratic Ball experience. Choose between local pick-up at select Zamzows pet supply centers or convenient nationwide delivery.

Elevate playtime and create unforgettable memories with your pup – order the Chuckit Erratic Ball 2 PK MED today and let the bouncing excitement begin! Get ready for a game of fetch like no other.

Please note: Chuckit Erratic Ball is available in various sizes, including small, medium, large, x-large, and xx-large, with both single and two-pack options. Don't miss out on this exhilarating playtime essential that's sure to keep tails wagging and paws bouncing.