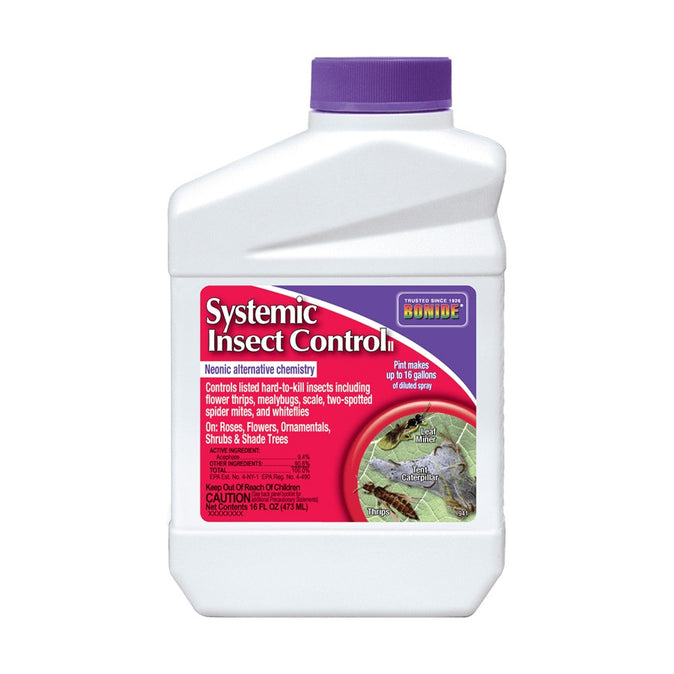 Bonide Systemic Insect Concentrate 16 OZ
Introducing Bonide Systemic Insect Concentrate 16 OZ: Your Ultimate Plant Protector!
Download Product Label

Are pesky insects wreaking havoc on your beautiful garden? Say goodbye to the hassle of dealing with hard-to-control pests with Bonide Systemic Insect Concentrate 16 OZ. This powerful solution provides a dual-action formula that not only kills on contact but also acts systemically, getting rid of insects through ingestion. 

Key Features:
1. Comprehensive Protection: Our Systemic Insect Concentrate ensures complete plant protection by being absorbed through the foliage. This means your roses, flowers, ornamentals, shrubs, and trees are shielded from the inside out, ensuring long-lasting defense against sucking and chewing insects.
2. Battle Hard-to-Control Insects: Don't let stubborn insects ruin your gardening efforts. This concentrated insecticide effectively targets a wide range of pests, including aphids, bagworms, leaf miners, thrips, and many more. With Bonide Systemic Insect Concentrate, you can rest easy knowing your plants are safe from destructive invaders.
3. Versatile Application: Our product can be conveniently mixed with fungicides or fertilizers, offering you a combination spray application for added convenience and effectiveness. Tackle multiple garden issues with ease and enhance the overall health of your plants.

SEO-optimized product description:
Are you seeking an effective solution to eliminate garden pests and protect your beloved plants? Look no further! Bonide Systemic Insect Concentrate 16 OZ offers a powerful dual-action formula that delivers swift contact kills and systemic control through ingestion. Safeguard your outdoor ornamental plants, including roses, flowers, trees, and shrubs, with this exceptional insecticide.

Key Benefits:
- Long-lasting protection by being absorbed through the foliage
- Targets a variety of hard-to-control insects
- Versatile application when mixed with fungicides or fertilizer

Get your hands on the Bonide Systemic Insect Concentrate 16 OZ now and take back control of your garden! Order online or visit any of our local Zamzows garden centers in Boise, Meridian, and Nampa to experience the ultimate plant protection firsthand. Don't let pesky pests ruin your gardening joy; let Bonide be your trusted partner in achieving a vibrant and pest-free garden.