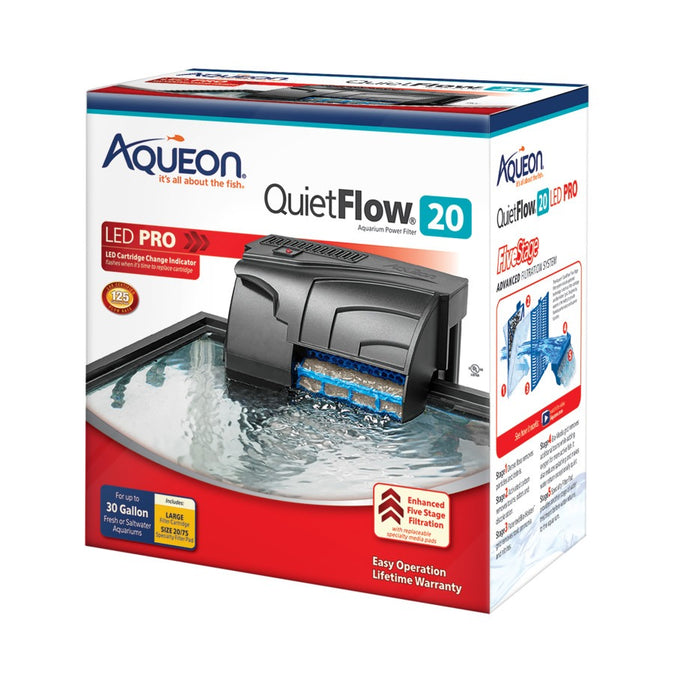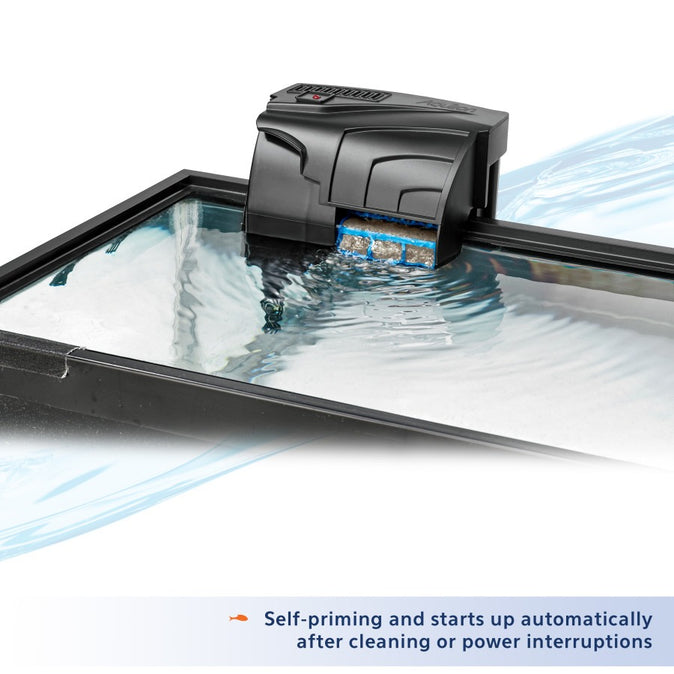 Aqueon Quiet Flow 20 Power Filter
Aqueon Quiet Flow 20 Power Filter: Enhance Your Aquarium's Health and Beauty

Upgrade your aquarium filtration system with the Aqueon Quiet Flow 20 Power Filter. Designed for both fresh and saltwater aquariums up to 30 gallons in size, this powerful filter guarantees optimal water quality and a thriving aquatic environment. 

Featuring a state-of-the-art LED indicator light, this advanced power filter ensures maximum efficiency. The LED light conveniently flashes when water cannot pass through the cartridge, indicating the perfect time to replace it. This proactive cartridge replacement keeps your aquarium water crystal clear and your fish healthy.

With its self-priming filter pump, the Aqueon Quiet Flow 20 Power Filter offers hassle-free operation. The filter pump will automatically start or restart if power is interrupted and restored, eliminating the need for manual priming. Say goodbye to tedious and time-consuming setups!

Enjoy comprehensive filtration with mechanical, chemical, and biological capabilities, courtesy of the Aqueon Quiet Flow 20 Power Filter. In addition, you can enhance the filtration system further by using optional, additional specialty pad filters. This versatile filter ensures your aquarium's water remains free from impurities and contaminants.

The Aqueon Quiet Flow 20 Power Filter is renowned for its high flow rates, which promote optimal dissolved oxygen content in the water. This helps to maintain the health and activity levels of your fish, making them more vibrant and lively. Experience the joy of observing your fish thrive in their pristine aquatic habitat.

Designed with an internal pump, this power filter is not only efficient but also remarkably quiet. Its innovative self-priming feature helps dampen noise and eliminate leaks, providing a peaceful and leak-free environment for your aquatic pets.

During cartridge replacement, it is essential to note that the Bioholster should not be cleaned as it contains beneficial biological bacteria. This ensures the continuity of a healthy and balanced ecosystem within your aquarium.

Ordering the Aqueon Quiet Flow 20 Power Filter is a breeze. You can conveniently purchase it online or visit any of our local Zamzows pet supply stores located in Boise, Meridian, and Nampa. Take the first step toward a cleaner and healthier aquarium today.

Ensure your aquatic pets enjoy the best care with the Aqueon Quiet Flow 20 Power Filter. Add it to your cart now and watch your aquarium come to life with vibrant colors and thriving marine life!