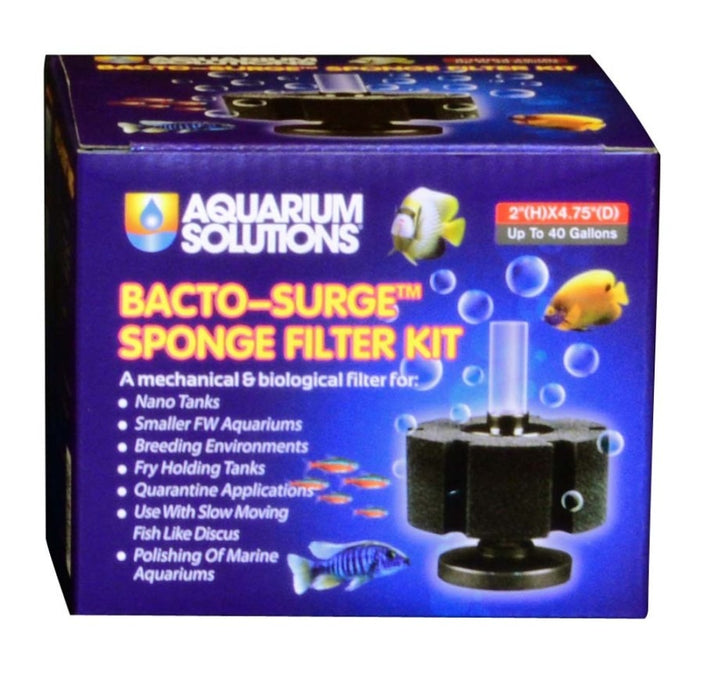 Aquarium Solutions Bacto-Surge Sponge Filter Kit
The difference is in the quality of the foam sponge. Hikari Aquarium Solutions Bacto-Surge Foam Filter employs the highest-quality foam sponge they could source to provide outstanding mechanical and biological filtration. Extreme foam density allows for greater surface area per square inch to support significant levels of beneficial bacteria.
Use Instructions: 1. Before installation, soak the sponge block in aquarium water for at least five (5) minutes.2. To clean sponge block, always rinse with water taken from your aquarium. Do not use tap or hot faucet water as this can damage the sponge block and impact bacteriological action.3. When re-installing the sponge block, submerge in aquarium water and squeeze gently to remove all trapped air inside the microscopic pores. This allows the sponge block to operate properly.4. For optimum performance, replace the sponge block every six (6) months. Allow the new block to soak in your aquarium water for a minimum of two weeks before installation to allow it to colonize with nitrifying bacteria.5. The Bacto-Surge Sponge Filter requires a minimum of 30 days of use to operate peak performance. Care should be taken during this time to monitor your ammonia, nitrite and nitrate levels as the aquarium progresses through the nitrogen cycle. ClorAm-Xcan help control ammonia toxicity during this period.