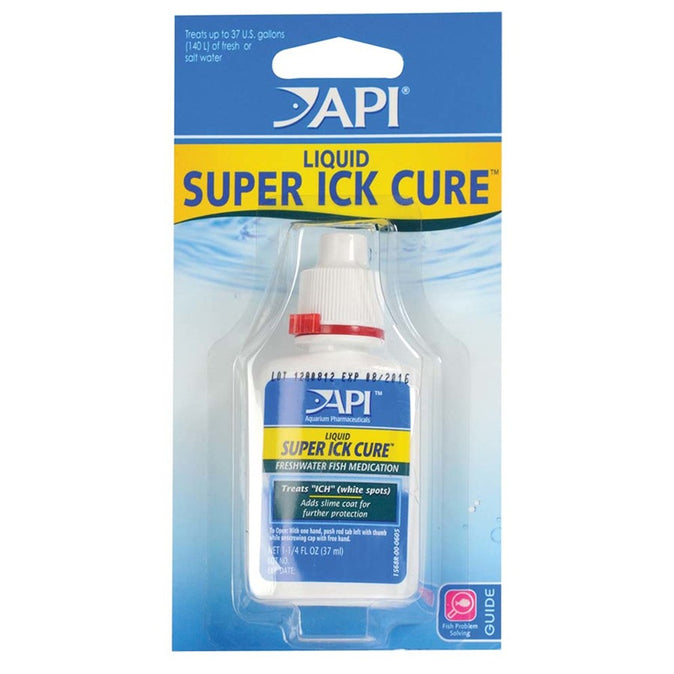 Aquarium Pharmaceuticals Super Ick Cure 1.25 OZ
Aquarium Pharmaceuticals Super Ick Cure 1.25 OZ - the ultimate solution for combating Ich, a highly contagious and devastating parasite that can wreak havoc on your beloved aquatic pets. Say goodbye to the worries of large wounds and infections caused by this persistent menace. 

Our Super Ick Cure is specially formulated to rapidly eliminate the Ich parasite, typically eradicating it within a mere 24 hours. With its powerful active ingredients, Malachite Green and Nitrofurazone, this treatment works effectively to restore your fish's health and vitality.

Not only does Super Ick Cure swiftly eliminate Ich, but it also aids in the rejuvenation of your fish's natural protective skin slime, which is often compromised by the disease. This holistic approach ensures that your aquatic companions are not only free from the parasite but also equipped with the necessary defenses to prevent future infestations.

Ordering our Aquarium Pharmaceuticals Super Ick Cure online is a breeze, offering you convenient access to this potent solution from the comfort of your own home. Alternatively, you can find it at any of our local Zamzows pet supply stores located in Boise, Meridian, and Nampa. 

Don't let Ich jeopardize the health and well-being of your aquatic friends. Choose the trusted Aquarium Pharmaceuticals Super Ick Cure 1.25 OZ today and experience the difference it makes in safeguarding your aquarium's delicate ecosystem.