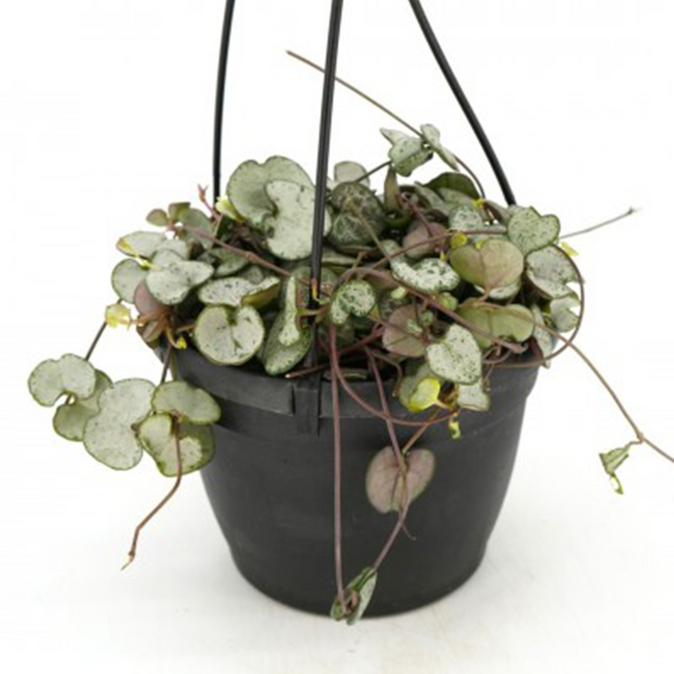 Ceropegia woodii Silver Glory Hanging Basket 6 IN
Ceropegia woodii Silver Glory Hanging Basket 6 IN - commonly known as the Silver Glory String of Hearts. This delightful trailing succulent plant is a perfect addition to any indoor space, adding a touch of natural elegance with its distinctive gray-green, heart-shaped leaves adorned with a silvery-white patina. Whether you're a seasoned plant enthusiast or a beginner looking to cultivate your green thumb, the Silver Glory is a wonderful houseplant that captivates with its unique charm.

The Silver Glory String of Hearts is characterized by its long, reddish-brown vines, making it an ideal choice for showcasing its beauty as it cascades down gracefully from a hanging basket or container. The name "Silver Glory" aptly describes the plant's stunning appearance, making it a standout feature in any home.

To ensure optimal growth, it's recommended to plant the Silver Glory in well-drained soil, positioned away from reflected heat. This will create an environment that mimics its natural habitat, allowing the plant to thrive and showcase its full splendor. Once established, the Silver Glory String of Hearts requires infrequent watering, especially during the hot season. This resilient plant is well-suited to adapt to various conditions, making it a low-maintenance choice for plant enthusiasts of all levels.

It's important to note that the availability of the Silver Glory String of Hearts may vary from store to store. To inquire about the availability of this specific plant or to make a purchase, please contact us directly. Our knowledgeable staff will be happy to assist you in bringing the beauty of the Silver Glory into your home.