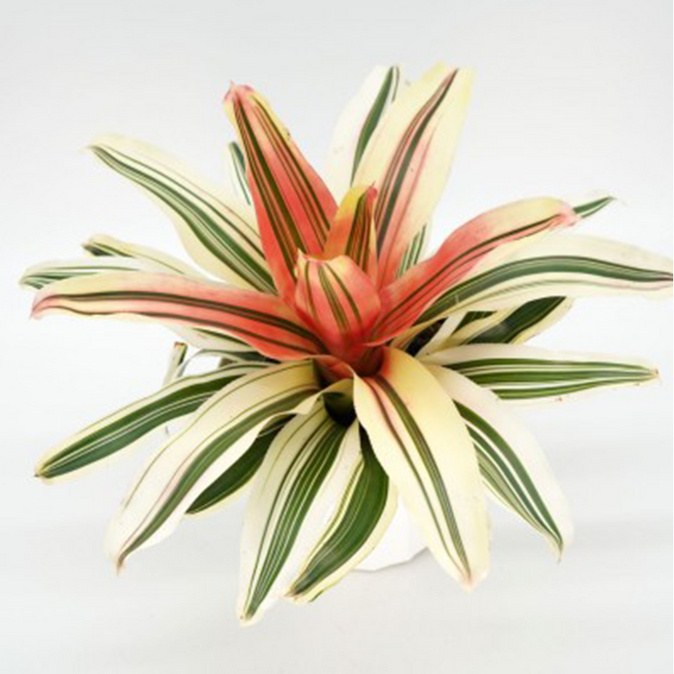 Bromeliad Neoregelia Variegated 6 IN
Bromeliad Neoregelia Variegated 6 IN - a stunning addition to your indoor garden that boasts both beauty and uniqueness. Please note that the availability of this exquisite plant may vary across our stores. If you're interested in acquiring this specific Bromeliad, we recommend reaching out to us directly for current availability.

This Epiphytic Bromeliad hails from a lineage that thrives in well-drained, moist sphagnum soil. Regular watering and a habitat with high humidity are key to nurturing its vibrant foliage. For optimal growth, consider applying a slow-release fertilizer in Spring when the plant embarks on its active growth phase.

The Bromeliad Neoregelia Variegated 6 IN is known for its slow-growing nature, gradually forming a captivating colony through the emergence of offsetting pups. Whether you're a seasoned plant enthusiast or a budding green thumb, this Bromeliad is a delightful addition to any collection.

As you care for this unique plant, keep in mind its preference for a well-drained substrate, regular watering to maintain soil moisture, and a humid environment. Striking a balance in these conditions will allow the Bromeliad Neoregelia Variegated 6 IN to flourish and showcase its variegated beauty.

Due to the varying availability of this plant in our stores, we encourage you to get in touch with us for the latest information. Elevate your indoor garden with the Bromeliad Neoregelia Variegated 6 IN, a captivating centerpiece that adds a touch of nature's elegance to your home.