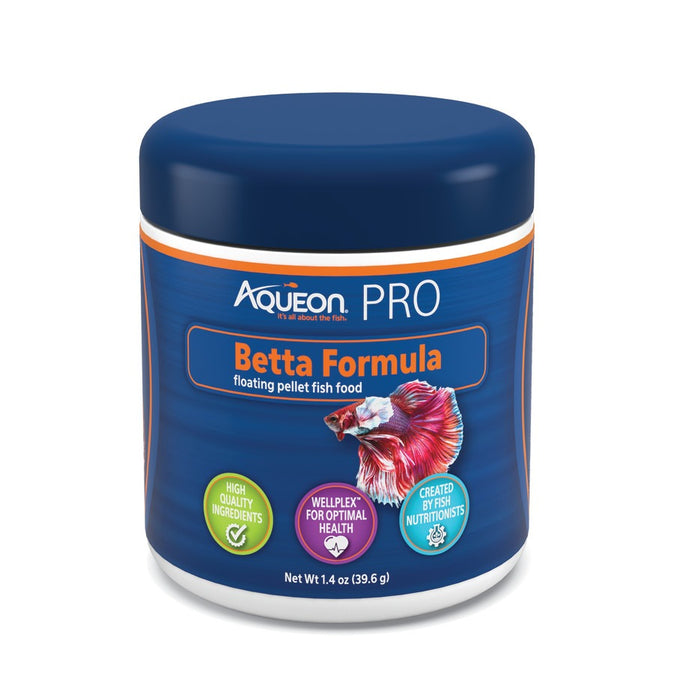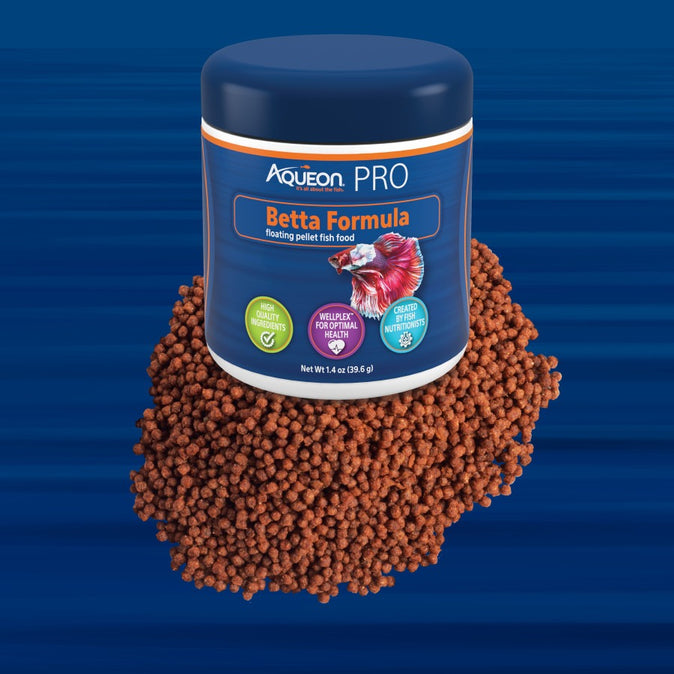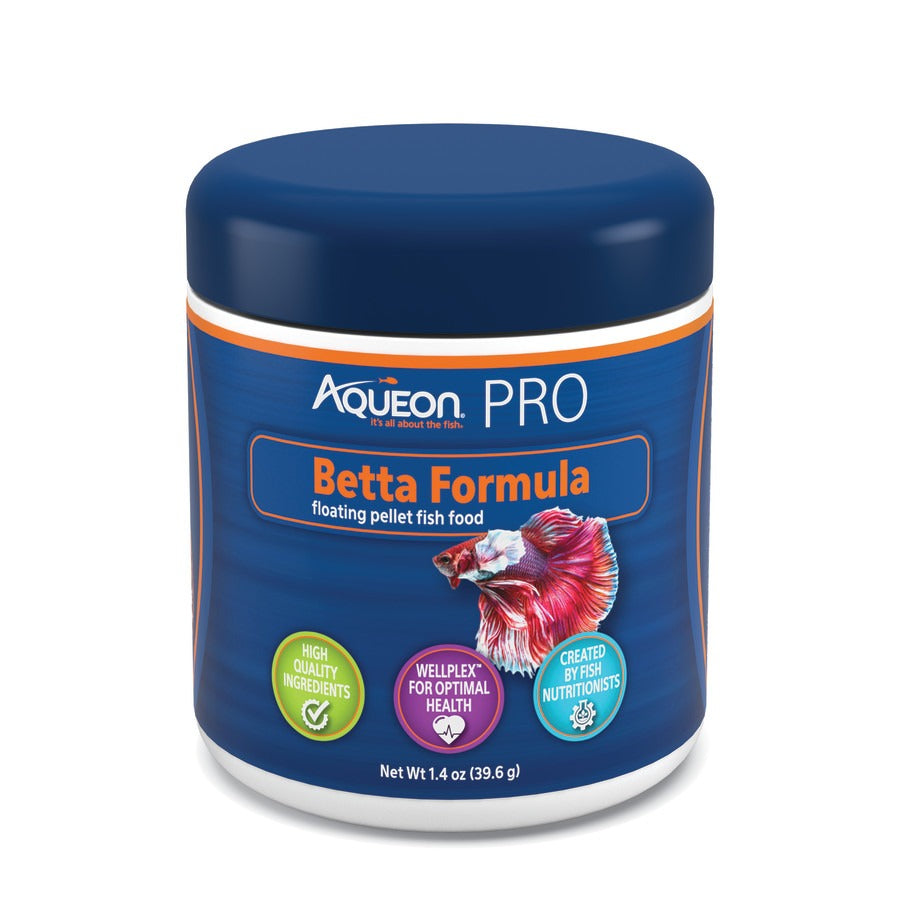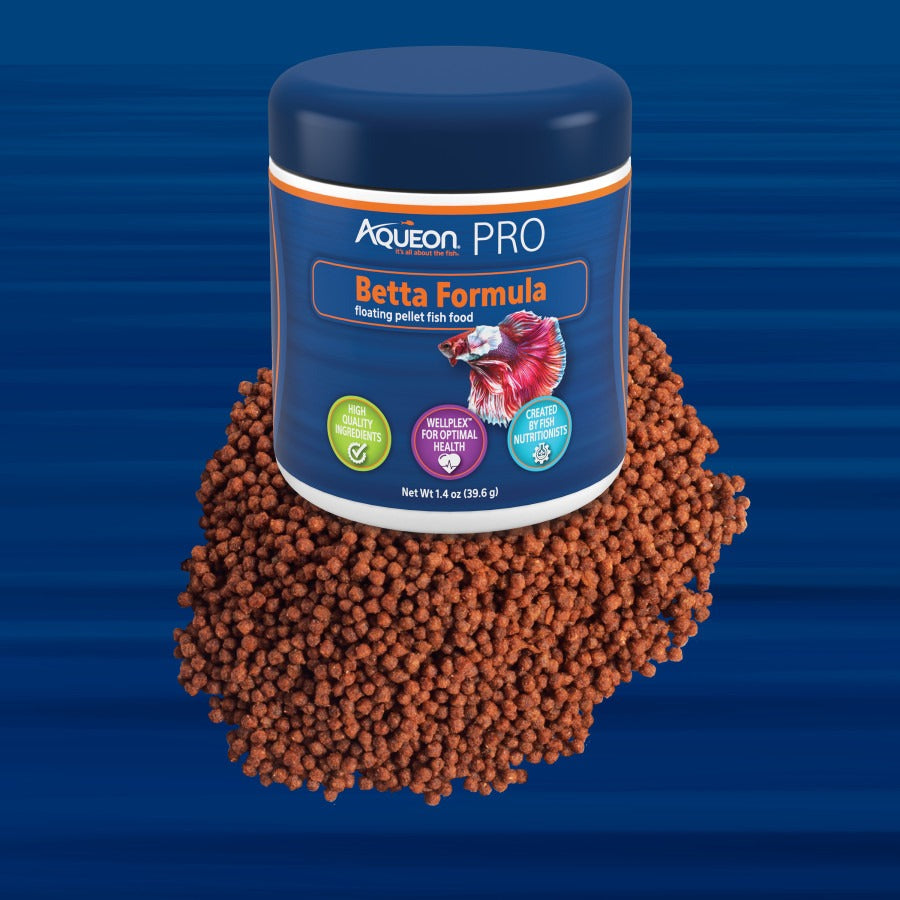 Aqueon Food Pro Betta Pellet 1.4 OZ
Aqueon Food Pro Betta Pellet 1.4 OZ: Nutritionally Balanced and Immune System Support for Your Beloved Betta

Ensure your betta fish receives the optimal nutrition it deserves with Aqueon Food Pro Betta Pellet 1.4 OZ. We understand that each fish species has unique dietary needs, which is why Aqueon PRO foods take a different approach. By closely examining the natural diet of fish, our expert fish nutritionists have developed a formula that promotes overall well-being and supports the immune system.

The key to our innovative formula lies in Wellplex®, a proprietary blend of macro and micro algae, along with Vitamin C and Vitamin E. Wellplex® provides holistic immune system support, ensuring your betta fish stays happy and healthy for the long term. With Aqueon PRO foods, you can trust that your fish will receive high-quality nutrition formulated by leading fish nutritionists, all while aligning with their natural diet.

Bettas are known to thrive in small puddles where resources are limited. That's why we specifically designed the Aqueon PRO Betta Formula to cater to their unique needs. Packed with quality protein and plant nutrients, our pellets promote the overall wellness of your betta. These floating pellets also encourage their natural surface feeding behavior, providing an enjoyable feeding experience for your fish.

We believe in using the finest ingredients to create a well-rounded diet for your betta. Our carefully selected ingredients include Wheat, Dehulled Soybean Meal, Fish Meal, Krill Meal, Pea Protein, Shrimp Meal, and more. These components work together to deliver essential nutrients that contribute to your betta's vibrant colors and overall health.

Not only is Aqueon Food Pro Betta Pellet 1.4 OZ suitable for bettas, but it is also an excellent choice for Gouramis and Paradise Fish. This versatile formula satisfies the dietary requirements of multiple species, making it a convenient option for fish enthusiasts.

Order your Aqueon Food Pro Betta Pellet 1.4 OZ today and give your betta the nutrition it deserves. You can conveniently purchase it online or visit any of our local Zamzows pet supply stores located in Boise, Meridian, and Nampa. Remember to store the pellets in a cool, dry place with the lid tightly secured to maintain their freshness.

Instructions for use: Feed your fish no more than what they can consume within 1 - 2 minutes to prevent overfeeding.

Invest in your betta's health and happiness with Aqueon Food Pro Betta Pellet 1.4 OZ. Experience the difference of a nutritionally balanced diet developed by experts in fish nutrition. Order now and witness the vibrant well-being of your betta firsthand.